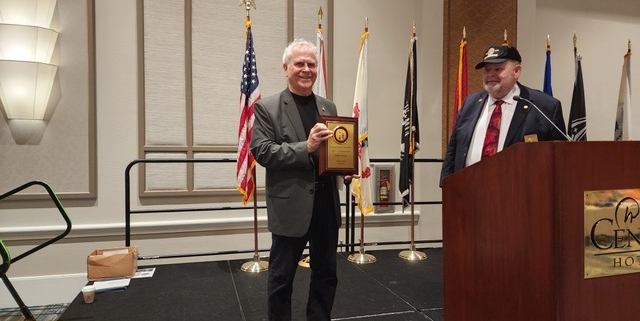 Vietnam Veterans of America (VVA), the nation's only congressionally chartered veterans service organization dedicated to the needs of Vietnam War veterans and their families, presented best-selling author and retired NASA engineer and astronaut trainer Homer Hickam with its prestigious Lifetime Achievement Award at the 21st biennial VVA National Convention in Orlando FL.
The award presentation followed Hickam's captivating and heartfelt Keynote Speech on legacy at the event's Opening Ceremonies earlier this month.
Mr. Hickam is a decorated U.S. Army 4th Infantry Division Vietnam War veteran and New York Times #1 best-selling author of 19 books, including his acclaimed memoir "Rocket Boys," the basis for the hit Universal Studios film "October Sky." Homer's latest book, "Don't Blow Yourself Up," details his service in Vietnam, his long career with NASA, and as a best-selling author.
"The Lifetime Achievement Award honors Homer's service in the Vietnam War and his phenomenally successful writing career, along with his longtime work as a NASA engineer," said Jack McManus, VVA's National President. "From its beginnings in 1978, one of VVA's missions has been to counteract media-fed negative stereotypes of Vietnam War veterans by recognizing veterans, who like Homer, have come home from the war, embarked on successful careers, and contributed to the betterment of American society."
The VVA National Convention, held from August 8-12, 2023, at the Rosen Centre in Orlando, brought together over 700 delegates from VVA chapters nationwide and hundreds of other Vietnam War veterans and guests. The convention provided a platform for delegates to shape the organization's future, featuring informative sessions, inspiring speakers, and special events.
Vietnam Veterans of America remains committed to preserving the legacy of its organization and supporting the needs of Vietnam War veterans and their families. The VVA continues to fulfill its mission of honoring and empowering those who have served.
For more information about Vietnam Veterans of America and its initiatives, please visit www.vva.org.
For more information about Homer Hickam, visit www.homerhickam.com.
https://allenmediastrategies.com/wp-content/uploads/hh-vva3.jpeg
480
640
AMS
https://allenmediastrategies.com/wp-content/uploads/allenmediastrategies_logo_light_bg2.png
AMS
2023-09-05 10:45:16
2023-09-05 10:45:34
VIETNAM VETERANS OF AMERICA HONOR HOMER HICKAM WITH LIFETIME ACHIEVEMENT AWARD