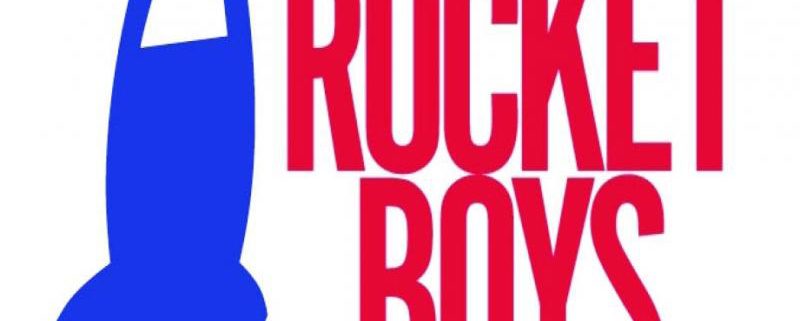 Link to the article: http://www.register-herald.com/news/annual-rocket-boys-festival-celebrates-th-year/article_a399687a-7873-5bb4-b58d-17fa054e8414.html
Annual Rocket Boys Festival celebrates 7th year
By Jordan Nelson Register-Herald Reporter
Sep 23, 2018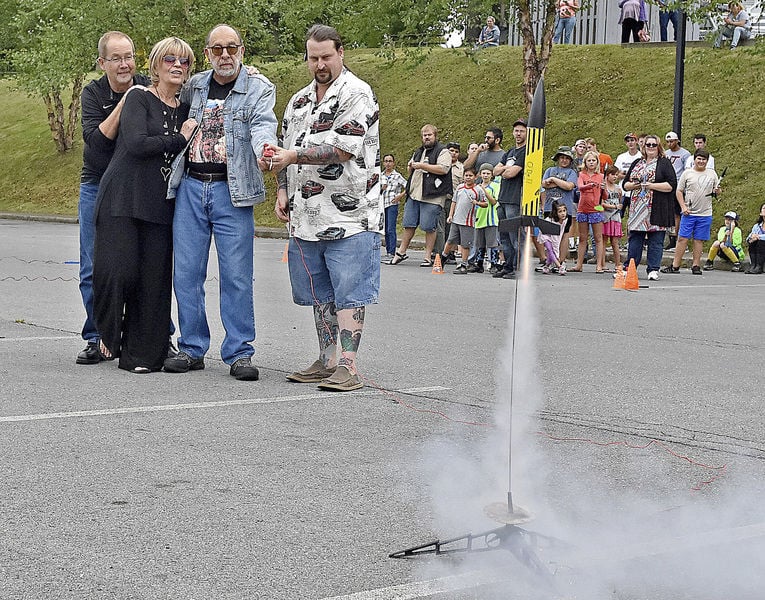 (Brad Davis/The Register-Herald) An All-Star group consisting of (from left) West Virginia filmmaker Daniel Boyd, "Mrs. Gilligan" Dreama Denver, Rocket Boy Roy Lee Cooke and rocket enthusiast Tom Moseley launch a rocket together as spectators look on to kick off the rocket launching portion of events at the Rocket Boys Festival Saturday afternoon at the Exhibition Coal Mine.
Although it was a dreary Saturday afternoon, spirits were still high as family and friends gathered to show off the work of this year's rocket builders.
Now in its seventh year, the Rocket Boys Festival comes to town every year to celebrate "The Rocket Boys." In the 1950s, they surprised people in Coalwood with their skills at building rockets and brainpower.
"Are you all ready?" Hickam shouted, while all the children shouted "yes!" with glee. "I'm going to attempt to set this rocket off for you all."
As Hickam's rocket soared, everyone cheered. He smiled.
It was the kickstart to the official rocket launch at the Beckley Exhibition Coal Mine.
Nearly 100 rockets were launched Saturday.
Beckley residents Frances Allen-Henderson and Wendi Shumate stood with their sons, Blake and Cole, cheering and clapping as rockets were launched.
"I think we're just as excited as the kids are," they both said, while taking multiple photos and videos with their phone.
Allen-Henderson said it took her and her son Blake around an hour to build their rocket, and although this wasn't their first time attending the event, it was their first time building and launching their own rocket.
"I'm ready!" Blake shouted.
"It gives him a chance to learn something new and then come and give his hard work a go," Allen-Henderson said, "and we just think that's really cool."
Shumate agreed. She said she liked having the opportunity to bring her son Cole to an event built around important moments in history.
Caitlyn Stone, a Mullens native and recent graduate from Virginia Tech, stood in the crowd with her rocket, which stood high enough to reach her midtorso.
When asked if she was going to launch her rocket, she said, "No, not today. The clearance rate isn't safe for a place like this; it may knock someone out."
Stone, who completed her rocket in February, said although she couldn't launch it at Saturday's event, it was important for her to attend.
"I really like history, and obviously I really like rockets," she said. "I've been coming here every year, and I just don't see that changing. It brings people together to talk about the history that took place because of these guys."
Stone did get her rocket autographed by Homer Hickam.
She pointed to his name etched in silver marker and said, "Now it'll be there forever."
Email: jnelson@register-herald.com; follow on Twitter @jnelsonRH
https://allenmediastrategies.com/wp-content/uploads/Image-RBF.jpg
859
800
Allen Media Strategies
https://allenmediastrategies.com/wp-content/uploads/allenmediastrategies_logo_light_bg2.png
Allen Media Strategies
2018-09-25 11:37:00
2018-09-25 11:37:00
Annual Rocket Boys Festival celebrates 7th year