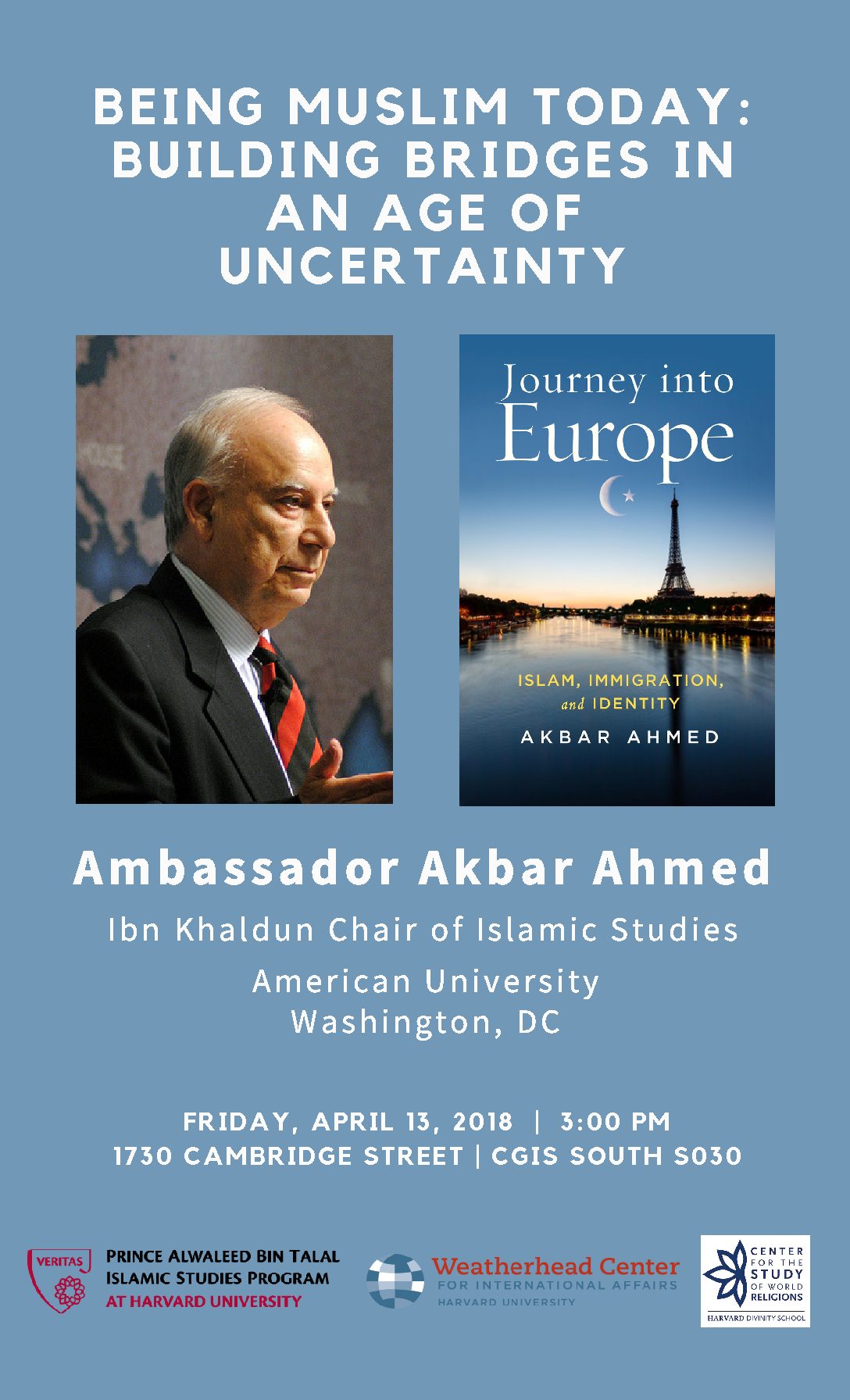 Cambridge, Massachusetts, April 13, 2018 – Ambassador Akbar Ahmed, noted Islamic scholar, author, poet and playwright, told an audience at Harvard University today that a terrorist "is not a Muslim in any sense of the word."
Ambassador Ahmed, the Ibn Khaldun Chair of Islamic Studies at American University in Washington, DC, addressed Harvard's Prince Alwaleed Bin Talal Islamic Studies Program.
His lecture at Harvard's Weatherhead Center for International Affairs follows the recent release of his well-received new book, "Journey Into Europe: Islam, Immigration, and Identity."
"People rarely look to the background of those who are committing acts of terror in Europe," said Ahmed. "A man who watches ISIS videos with a beer in one hand and a joint in the other before going on to drive a truck into a crowded promenade is not a Muslim in any sense of the word."
"Simply identifying these people as Muslims does no good in solving the problem of terrorism – if anything, it only creates further division and anger," added Ahmed, who has been called "the world's leading authority on contemporary Islam" by the BBC.
The professor said both Muslims and non-Muslims "are feeling under siege as if they are looking into a mirror when viewing one another." 
"In Europe, the majority feels overwhelmed by refugees and immigrants, while the minority feels those core elements of their faith practice are under constant assault in the societies they now call home," he said.
It is essential, said Ahmed, that this tension is addressed head-on if there is to be any hope of reemerging from the crisis that has been created.
"It is critical that we place greater value on the importance of knowledge, research, and learning and not on emotion or ideology," said Ahmed, who added, "Right now we are dealing with too much confusion and distortion about one another."
This, he said, is creating long-term problems and is widening the gap between religions and cultures.  
"Regardless of our individual faith practices, we must all learn to heed the great Jewish call to action, 'Tikkun Olam,' which means to heal a fractured world, if we are to have any hope of fostering peace and understanding in our world today," he concluded.
The Harvard talk is one of a series of lectures Ahmed is giving throughout the United States and in Europe on the heels of his new book which was favorably reviewed this month in the New York Times Book Review.
For further information
Contact: Michael Willard, Allen Media Strategies @ michael.willard@allenmediastrategies.com
407-617-4918
https://allenmediastrategies.com/wp-content/uploads/Akbar-Ahmed-poster-4-pdf.jpg
1792
1088
Allen Media Strategies
https://allenmediastrategies.com/wp-content/uploads/allenmediastrategies_logo_light_bg2.png
Allen Media Strategies
2018-04-13 15:33:48
2018-04-13 15:52:54
Noted Islamic Scholar Says A Terrorist Is No Muslim