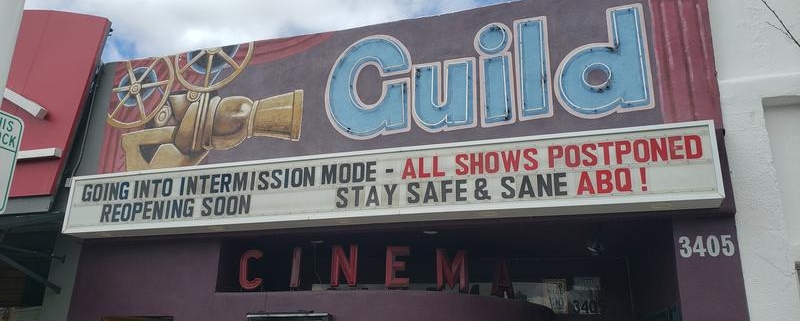 By MEGAN KAMERICK • MAR 21, 2020
The popcorn machine is silent in the lobby of the Guild Cinema in Albuquerque's Nob Hill. Owner Keif Henley was supposed to show the movie "Phoenix Oregon" over the weekend. But for now, he's closed.
Movie theaters around New Mexico have shut down in response to a public health order by the governor to halt the spread of coronavirus. For small, independently owned venues, and the films they show, this could be economically devastating.
"Oh, it's terrible like you'd expect it to be," Henley says. "You know, we're not really making much revenue."
But Levey Distribution and PR, which is distributing "Phoenix, Oregon," has found a way to help local theaters and independent filmmakers.
Fans can buy tickets online that allow them to stream the film at home. The 20 theaters around the country slated to screen "Phoenix Oregon," including the Guild, will split the profits with the producers.
"So this is a way of distributors supporting theaters and this is also a way in Phoenix, Oregon's case of supporting independent cinemas and independent filmmaking," Henley says.
The film's director Gary Lundgren says there's a close relationship between independent filmmakers and small theaters that promote them.
"In our discussions, as these theaters we love started closing we saw the pain it was causing them, and the pain it was causing us," Lundgren says. "So really it was kind of an easy win-win."
He's hopeful they can keep rolling out this model to more theaters.
Henley is talking to other distributors for films he had to cancel to see if they'll do something similar. But he also hopes when theaters re-open people will come back to watch movies in the dark with friends and neighbors.
"I hope that never goes away," he says. "I hope that tradition learns to live with the new technologies that are coming out."
https://allenmediastrategies.com/wp-content/uploads/20200319_133946.jpg
389
800
Allen Media Strategies
https://allenmediastrategies.com/wp-content/uploads/allenmediastrategies_logo_light_bg2.png
Allen Media Strategies
2020-03-26 11:32:39
2020-03-26 11:32:39
Pheonix Oregon: "Streaming Model Helps Independent Film Theater Weather Coronavirus" (KUNM)