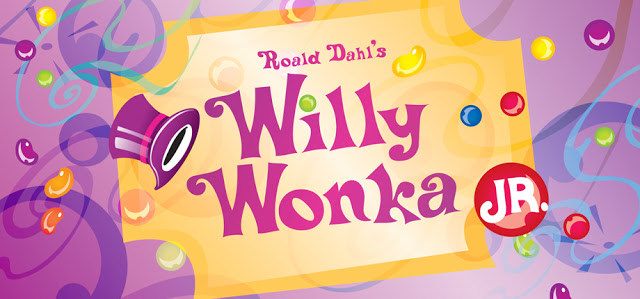 Do you have your golden ticket for Theatre West Virginia's production of Willy Wonka Jr?  Follow the delicious adventures of likable young lad Charlie Bucket as he makes his way through Willy Wonka's mysterious chocolate factory and runs into some very colorful Oompa Loompa's along the way in this fantastical tale. The magical story unfolds on Theatre West Virginia's stage at Cliffside Amphitheatre at Grandview in the New River Gorge National River near Beckley WV beginning this Thursday July 26th-29th and August 1st through August 4th at 7:30pm nightly. 
Willy Wonka Jr. features the enchanting songs from the classic 1971 film starring Gene Wilder in addition to a host of fun new songs. The timeless story follows the enigmatic candy manufacturer as he stages an epic contest by hiding golden tickets in five of his scrumptious candy bars. Whomever comes up with the winning tickets gets a tour of Willy Wonka's factory and a lifetime supply of Wonka candy. Four of the five winners are insufferable brats, but the fifth is a likable boy named Charlie Bucket who takes the tour along with his equally amiable grandfather. The children must learn to follow Willy Wonka's rules in the factory-or suffer the candy coated consequences!
Willy Wonka Jr. is final production of Theatre West Virginia's 2018 summer season. West Virginia's leading professional outdoor theatre company opened this June with the world premiere of Paradise Park The Musical, a musical adaptation of the cult-classic film by Daniel Boyd with an all-new original score by Mountain Stage host Larry Groce. It was followed in July by the beloved annual production of Hatfields & McCoys about the legendary family feud that spanned decades and state lines. Next, Rocket Boys The Musical blasted off from the stage at Grandview for the fourth time since its premiere in 2011, telling the moving story of young Homer Hickam, his friends in the Big Creek Missle Agency, and their bid to leave the mines of Coalwood WV behind for bigger dreams and brighter stars.
Willy Wonka Jr. opens Thursday, July 26th. Tickets are available by visiting the Theatre West Virginia Online Box Office or by calling 304-256-6800. 

https://allenmediastrategies.com/wp-content/uploads/WIlly.jpg
299
640
Allen Media Strategies
https://allenmediastrategies.com/wp-content/uploads/allenmediastrategies_logo_light_bg2.png
Allen Media Strategies
2018-07-25 13:55:47
2018-07-25 13:56:49
Willy Wonka Jr Opens This Weekend Under The Stars At Theatre West Virginia!