Fantastic review in National Post (Canada) for Mine 9 https://nationalpost.com/entertainment/movies/chris-knight-mine-9-is-a-subterranean-drama-with-all-the-classical-elements-of-a-thriller
9 Coal Miners, 2 Miles Underground, 1 Hour Of Oxygen Left To Survive. A Film About Tragedy, Terror, And Survival
Variety calls Mine 9 "cannily made survival drama… with honesty and conviction!"
The Hollywood Reporter says Mine 9 is "a claustrophobic you-are-there account of a coal mine!"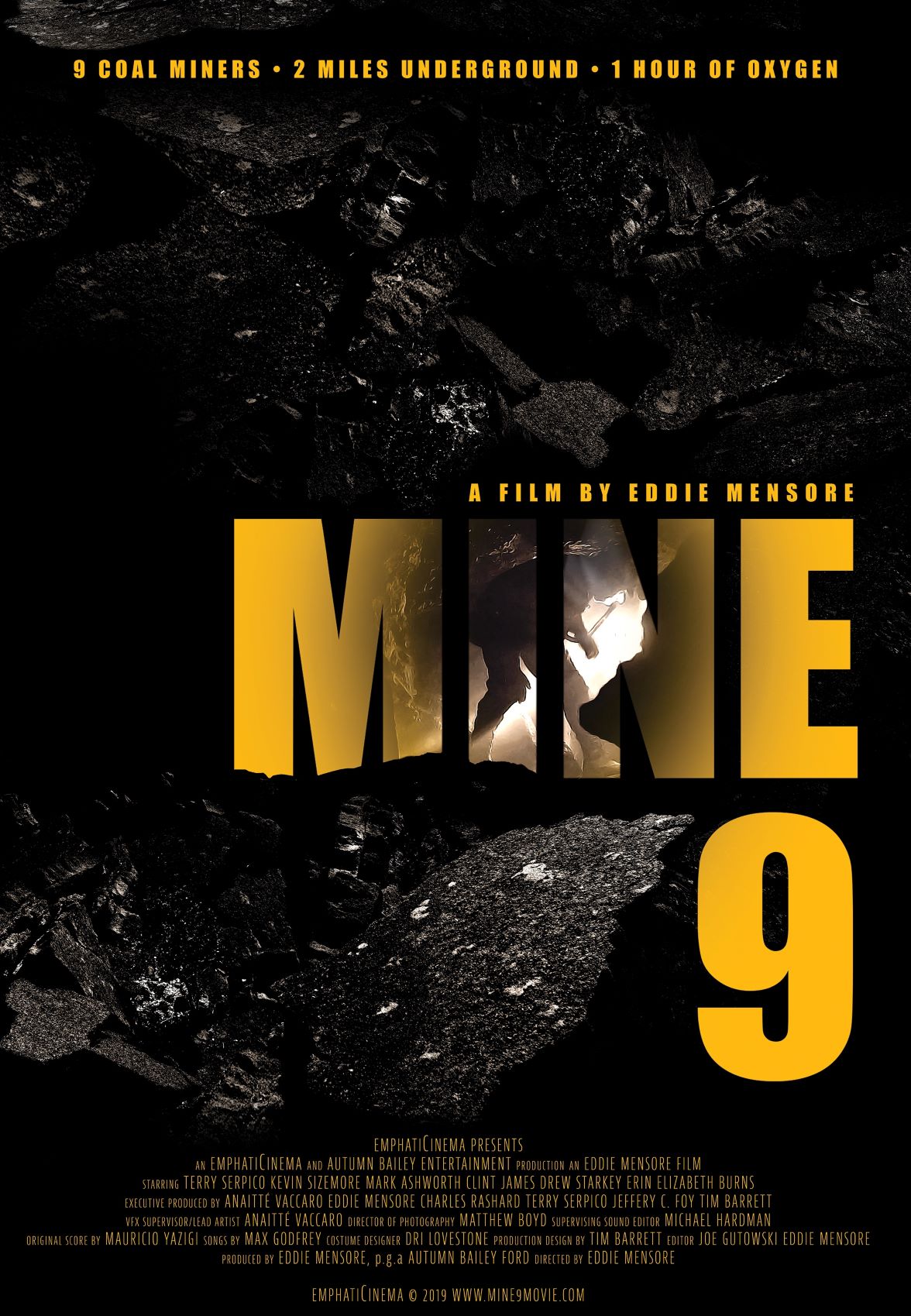 Official website: http://www.mine9movie.com
Official trailer: https://vimeo.com/294807332
Independent filmmaker, Eddie Mensore's 'Mine 9' is getting a big thumbs up and enjoying rave reviews by moviegoers and film critics alike. Inspired by true events, the story of nine Appalachian coal miners trapped 2 miles underground after a methane explosion with one hour of oxygen left to survive, recently won Best Ensemble Cast Award, Best Feature Film (Thriller) and Best Director Award at Bare Bones International Film Festival. It received Grand Prize at the Arizona International Film Festival and Best Feature at the Cinequest San Jose Film Festival.
There have also been glowing reviews from Matt Zoller Seitz of Roger Ebert fame; "By the end, you're so invested in the well-being of these men that you may wish the story had continued a bit further…" and from John DeFore of The Hollywood Reporter; "These men have experience and endurance to offer, but the movie knows their fate is mostly beyond their control. It asks us to fight off panic alongside them…"
This claustrophobic thriller is about this close-knit group of veteran coal miners who begin what seems like a normal day of work, not knowing that danger was lurking below. As they descend into the earth, the rain pouring down several miles above them, they tease a new miner with tales of ghosts and scary stories about the mine. Little did they know that one of them could become the subject of new ghost stories told to new miners in years to come.
Writer, director, and producer Eddie Mensore brings us this heart-stopping story of tragedy, terror and survival. In Appalachia, coal mining towns are filled with brave men and women who risk their lives every day to put food on their families' tables. Everyone knows the risk, everyone knows the danger, and everyone hopes their loved one comes home alive. Coal mining in Appalachia, dubbed The Devil's Playground, is dangerous business and Mine 9 gives you an up-close look at just how real and dangerous it can be when safety concerns are ignored and warnings fall on deaf ears.
Starring Terry Serpico, Kevin Sizemore, Mark Ashworth, and including breakout performances from Clint James, Drew Starkey and Erin Elizabeth Burns, 'Mine 9' is sure to have you on the edge of your seat, your heart racing, and caring about what happens to these men who risk their lives on a fairly regular basis.
https://allenmediastrategies.com/wp-content/uploads/Mine9_John.jpg
945
1687
Allen Media Strategies
https://allenmediastrategies.com/wp-content/uploads/allenmediastrategies_logo_light_bg2.png
Allen Media Strategies
2019-09-09 11:20:44
2021-05-31 10:24:56
Another Thumbs Up for Mine 9 – National Post