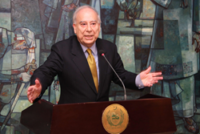 A reminder of American hospitality
The Sonoma Valley Authors Festival reminded Zeenat and me that Americans could be warm and inclusive, even in these troubled times
In early May, Zeenat and I had the privilege of traveling to Sonoma, California to speak as part of the inaugural Sonoma Valley Authors Festival. Organised by power couple David and Ginny Freeman, the weekend-long festival, held at The Lodge at Sonoma, a lavish resort, welcomed acclaimed authors from around the country and across the world to share their work and their transformative ideas with one another.
The Sonoma Valley, located about 45 miles north of San Francisco, is considered the birth place of the world-renowned California wine industry. American novelist Jack London, whose local ranch has been preserved as the Jack London State Historic Park, claimed that the term "Sonoma" came from a Native American word which means "valley of the moon." Today, as the heart of the famous California Wine Country, it is a renowned tourist destination which receives visitors from all over the world.
During my visit, I was impressed by the hospitality of the people and enjoyed the beautiful landscape, with vineyards dotting the rolling hills and mountains as far as the eye could see. While of course, as a Muslim, I could not partake in the local craft, I could certainly still appreciate the beauty of the countryside and the vibrancy of the vineyards.
I was delighted to immediately see such a large and engaged crowd awaiting the presentations of all the authors attending the festival. This year's festival welcomed 550 people, its maximum capacity, and 102 people were enrolled on the waiting list.
The leaders and visionaries behind the festival could not have been warmer and more welcoming toward me. David Lambert, a top CEO, personally drove us to and from Santa Rosa so I could speak on Students Day and stopped to buy us, what he said were, "the best strawberries you will ever taste."
When asked about the inspiration for the inaugural festival, David and Ginny shared with me that the idea was conceived when they traveled to other authors' festivals throughout the West. As David wrote, "Ginny and I attended the Sun Valley Writers Conference in Sun Valley, Idaho four years ago and found the experience enriching. The personal stories of the authors and the wide variety of topics that they discussed in their books was interesting and entertaining. As Ginny likes to say, 'going to an author's festival is like taking a vacation with a purpose.' After Sun Valley, we attended festivals in Pebble Beach and Rancho Mirage, California."
Ginny perhaps best encapsulated the mission of the festival in sharing her belief that attendees should "be prepared to be informed and transformed by what you hear!" David and Ginny hope to further expand the festival, with the goal of one-day welcoming 1,000 attendees to the heart of the Sonoma Valley for a weekend of enriching intellectual exchange.
I had the privilege over the course of the festival to meet several of the prominent authors invited to the festival. These included legendary American presidential historian Doris Kearns Goodwin, a warm-spirited woman who told me she has even been featured on The Simpsons, David Brooks, a famous New York Times columnist, and Niall Ferguson, an Oxford, Harvard, and Stanford scholar who has written extensively on international and Western imperial history. I also met Deepa Thomas, who has written a popular memoir cum cookbook titled Deepa's Secrets: Slow Carb New Indian Cuisine. The book aims to help type-2 diabetes patients control their condition through diet and was initially inspired by her husband's type-2 diabetes diagnosis. All proceeds from the book are going to FoodCorps, an American non-profit which helps to ensure that school children across the country have access to nutritious food options. The Thomases live in San Francisco and are originally from South India. I also heard Dr Eric Topol, a cardiologist and professor of genomics in San Diego who in 2009 was selected as one of the twelve Rockstars of Science in GQ Magazine.
To open the festival, I travelled to Sonoma Academy, an esteemed private high school of some 295 students, where I presented Journey into Europe: Islam, Immigration, and Identity to a full hall. The program was part of Students Day, a program for which eleven authors were asked to travel to schools in and around Sonoma and present their books to the community. 2,700 students participated, and as part of Students Day, 5,100 books were given to participating students thanks to the support of some $50,000 in private donations.
My presentation at the Sonoma Academy received two standing ovations, and I was most impressed by the high calibre of the students and the questions they asked. They flocked after the presentation to get my signature on their copies of Journey into Europe and to get pictures with me.
Back at the lodge, I had the privilege of launching Journey into Europe and showing a clip of the companion film in a program moderated by Ambassador Doug Holladay, who stole the show with his usual warmth and wit. Ambassador Holladay, the former Special Ambassador to South Africa, is the founder and CEO of Path North, an organization seeking to bring senior leaders from around Washington and the country together to discuss challenges they face in their work and learn to become stronger leaders. He also co-founded such private equity firms as Park Avenue Equity Partners, L.P. and Elgin Capital Partners LP and holds an Executive-in-Residence position at Georgetown University.
In his warm introduction, Ambassador Holladay described me as a most relevant scholar whose work is needed here and in the Muslim world in order to bridge the two civilizations. His remarks harkened back to when Holladay and I first met right after 9/11 when I was speaking at the National Press Club in Washington. Ever since he has been a great friend and supporter. He also acknowledged Zeenat in his introduction, noting how she has been a strong champion in her own right for the cause of bridging bridges between the West and the Muslim world. He even highlighted her royal background as the granddaughter of the Wali of Swat. I reminded the audience though, that Zeenat was not related to the great "Sultan of Swat," Babe Ruth, striking a chord with the Americans in the room.
The leaders and visionaries behind the festival could not have been warmer and more welcoming toward Zeenat and me. For example, David Lambert, a top CEO, personally drove us to and from Santa Rosa so I could speak on Students Day and stopped to buy us what he said were "the best strawberries you will ever taste." His wife Ann was equally hospitable. Julie Jones constantly looked after us with warmth and vigour to make sure we had everything we needed. We felt very special for the duration of our stay.
As a show of the warmth of all who put together this remarkable festival, it is worth sharing that after Zeenat and I returned to Washington, Julie sent us this lovely note: "Good morning — what a distinct honour and pleasure to meet you both and have a moment of memories of treasured times in Pakistan, Afghanistan, Kashmi, and India — plus a freighter trip across the Indian Ocean from Bombay to South Africa. Thank you for all the work you (and your family) do for our world. With best of wishes, Julie."
The Sonoma Valley Authors Festival reminded Zeenat and me that Americans could be warm and inclusive, even in these troubled times.
The writer is the Ibn Khaldun Chair of Islamic Studies at American University, Washington, DC, and author of Journey into Europe: Islam, Immigration, and Identity 
Published in Daily Times, June 30th, 2018.
https://allenmediastrategies.com/wp-content/uploads/gI_95437_14.PakSenateDec2014-e1520540801130.png
134
200
Allen Media Strategies
https://allenmediastrategies.com/wp-content/uploads/allenmediastrategies_logo_light_bg2.png
Allen Media Strategies
2018-07-02 12:44:00
2018-07-02 12:44:00
"A reminder of American hospitality" – Daily Times by Amb. Akbar Ahmed